Phonics/Reading
Everyday, there will be a phonics lesson posted on Ruth Miskin's Youtube channel. Follow this link to access the lessons, which will each be available for 24 hours: https://www.youtube.com/channel/UCo7fbLgY2oA_cFCIg9GdxtQ

Please ensure that your child reads either their school book or should they complete it, a book of their choice for 20 minutes. I understand that parents/carers may not have the time to listen to their child every day and so even if your child reads to their self, this would really benefit them. Make use of your reading at home chart so that on your child's return to school, they can redeem lots of extra Dojo points! Inside your child's learning from home pack you will find a list of question types to ask your child about their book.
Writing
New! I would love to receive a letter from you, telling me about what you got up to last week. Don't forget to use capital letters and full stops!
SPaG
New!

The new spelling bee honeycombs are below. (If you're not sure which colour your child should be accessing, get in touch).

This website contains some useful instructional videos:

https://www.bbc.co.uk/bitesize/topics/zkxxsbk
R.E
New!

This half term, I would like you to learn about a different religion called Judaism. Start by following this link and watching the video titled 'Meet a Jewish family': https://www.bbc.co.uk/bitesize/clips/zd9jxnb

Write down some facts you heard on the video.

Could you write a prayer for anybody who is having a difficult time right now? Perhaps you could write a prayer for those who are currently poorly or who are living in poverty.
P.E
Daily P.E lessons are being posted on Joe Wicks' Youtube channel everyday at 9:00AM. These are each 30 minutes long. To join in the fun, follow this link:

https://www.youtube.com/user/thebodycoach1

Could you help out with some gardening? Gardening can be very physical and it is therefore, a great form of exercise.

Design your own workout for a family member or friend. Make sure you test it out!

There are lots of other ideas on: https://www.energizestw.org.uk/primary
Other
New! This half term, our topic is 'Beside the Seaside'.
New!

The Wildlife Trust have launched the '3O Days Wild' challenge, which your parents can you sign you up for by clicking on this link: https://action.wildlifetrusts.org/page/57739/petition/1 (You'll get a free, downloadable pack of goodies!)

New!

Draw a picture of a seaside resort. If you haven't been to the seaside before, have a look for some images to help you. Add labels to your picture.

Rob Biddulph (a famous children's author and illustrator) is posting step-by-step drawing tutorials on his YouTube channel. You can access his channel by following this link: https://www.youtube.com/channel/UCBpgrJijMpk_pyp9uTbxLdg
Well done to all of Elm for making so much effort with your home learning. Each week, I am going to share three pieces of work on this page.
Sam produced a wonderful picture of the Seaside complete with labels.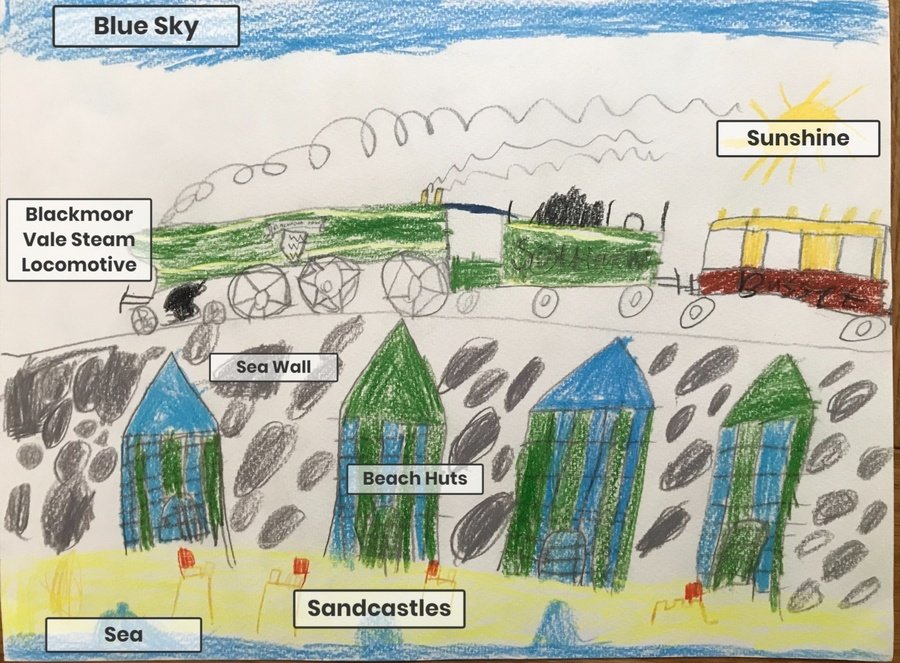 Freya carried out some research about habitats.
This adventure has been taking part in the '30 Days Wild' Challenge. What a super start he has made! Here is he talking about some of his finds.